About Us
Cooperating in this project are Fredrik Helander, artist/freelancing curator, and Fredrik Pettersson, architect/designer. Our work is based in our joint interest in cultural history and we met whilst working as hosts at the culture historical department at Skansen open air museum in Stockholm. We have long discussed our roles as hosts in bringing to life images of Sweden and projecting these on the visitors. However, we believe that today, there is a need for discussion about, and updating of the overall view of the cultural identity of Sweden. The Colony is a forum to show alternative, and perhaps more unknown part of our history and to present a more complete and nuanced view of our historical background. Ideally, this view can open up for a new understanding and thinking about cultural identity and historical background.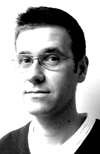 Fredrik Helander
Artist and freelance curator
Fredrik Helander was born 1971 in Munktorp and grew up in Örebro. For the past 11 years he lives and works in the Stockholm area. Fredrik graduated with a Masters in Fine Art from Konstfack Art & Design University in 2001. Since then, he has worked as an artist, participating in exhibitions (Liljevalchs, Moderna Museet and Candyland in Stockholm) and also works as a freelance curator. He has produced several exhibition projects in home environments "At home at Fredrik's" and has also arranged art and design exhibitions in Sweden (Dunkers culture house in Helsingborg, Gallerian in Stockholm). His latest appointment was to curate an alternative design exhibition in New York. Since 2006 Fredrik is a member of the new artist studio space WIP:sthlm in Stockhom.
More information about Fredrik Helander at: www.fredrikhelander.se - www.wipsthlm.se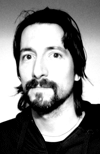 Fredrik Pettersson

Architect and Designer
Fredrik Pettersson was born 1972 in Lund and grew up there. Since 12 years, he has studied, lived and worked in Stockholm. 2003 he graduated with a Masters from the Royal University of Architecture and has also studied furniture design at the Carl Malmstens school, from where he graduated in 2000. Fredrik has also studied for a year at the architecture school ETSAB Barcelona and carried out a Minor Field Studies SIDA-project in Durban, South Africa. Fredrik works at ÅWL architects since three years. www.awlark.se